College Panhellenic (CPH)
A Letter from Our President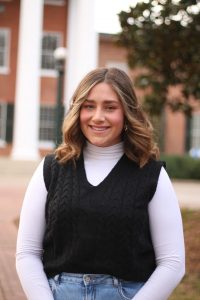 Welcome to the University of Mississippi! We are so excited that you are considering Greek life to be a part of your experience here at the Flagship.
Our Panhellenic community consists of ten NPC organizations. These organizations are comprised of empowered women who strive to create a positive, lasting impact, both locally and nationally. Our Panhellenic system offers opportunities to find a sisterhood that prioritizes your values and encourages you to aim for excellence in all of your endeavors–both during your undergraduate years and beyond.
Our community holds its women to a high standard in both scholarship and service; scholastic achievement is a priority in our system, with GPA requirements present in our organizations. We provide various programs and resources for the academic support of our members. We are proud to report that our council GPA is consistently higher than the campus-wide GPA.
In addition to scholarship, service is an integral piece of our council, as our members are deeply involved both on our campus and within our community. With engagement in various student organizations and numerous philanthropies, we aim for our members to become stewards of their resources and to invest in things they are passionate about.
We are thrilled that you are interested in Greek life at the University of Mississippi and hope you find our website useful and easy to navigate. You are able to look through our resources to learn more about our Greek community and can find more information about recruitment registration, letters of recommendation, and logistics here. Please reach out to our office if you have any questions!
Hotty Toddy and Go Greek!
Sarah Dufour
College Panhellenic Council President