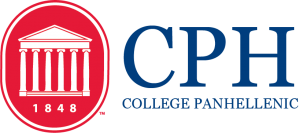 Potential New Members, Parents, and Alumnae,
The College Panhellenic Council remains highly impressed by our community members' commitment to upholding our ideals and the values-based recruitment process. As nationally recognized chapters, it remains in our best interest to be on the forefront of issues affecting Panhellenic life and to continue the outstanding progress that has been made by those Panhellenic women before us in order to better represent the ideals held by our chapters.
We are seeking to ensure that Potential New Members, parents, and university alumnae are aware of newly adopted Panhellenic recruitment policies in accordance with standards ordered by the National Panhellenic Conference. As the governing body of the Panhellenic community, it is in our interest to ensure the protection and safety of our chapters, their members, and potential new members. Providing alcohol as a recruitment method as well as hosting Potential New Members is unacceptable and against the University of Mississippi Creed, National Panhellenic Conference, and College Panhellenic Council values. Hosting includes, but is not limited to, taking or accompanying potential new members to spring parties, fraternity parties, pre-games, during orientation sessions, and weekend visits. Members of our community are expected to uphold the aforementioned values impressed upon them throughout their collegiate membership in our organizations. It is in the best interest of Potential New Members to adhere to these policies so that they remain in good standing throughout the recruitment process.
Please do not hesitate to reach out to the College Panhellenic Council with further questions or concerns at collegepanhellenic@olemiss.edu, or visit our website at panhellenic.olemiss.edu.
Respectfully,
The University of Mississippi College Panhellenic Council
CPH Primary Recruitment Information
The following webpage will provide you with information related to all things Primary Recruitment. Panhellenic Primary Recruitment will take place September 22-29, 2019.
CPH Primary Recruitment Registration 2019
Registration for 2019 Primary Recruitment will open on May 13th at 8:00am CST, please find the following webpage.
2019 Primary Recruitment Guide
You can find the College Panhellenic 2019 Primary Recruitment guide to assist in preparation on the following webpage.
Letters of Recommendation
To learn more about all things related to Letters of Recommendation, please find the following webpage. 
Alumnae Associations
To learn more about the many Alumnae Associations across the country, please click here.